Finally arrived! The english translation of the Reuse Book. Made in colaboration with insitu and zirkular.
REUSE IN CONSTRUCTION
A Compendium of Circular Architecture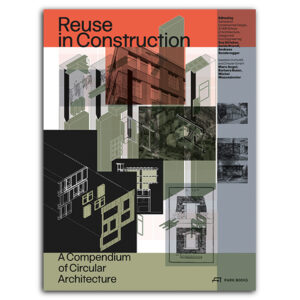 The construction industry is the largest single waste producing industry in the UK. Ensuring a supply chain of recycled materials affords many potential gains, achieved through: reducing the material volume transported to already over-burdened landfill sites, possible cost reductions to the contractor/clientwhen considering the landfill tax saved and the potential for lower cost material replacements,areduction in the environmental impact of quarrying and the saving of depleting natural material resources.
Reuse of Materials and Byproducts in Construction: Waste Minimization and Recycling addresses use of waste and by products in the construction industry. An over view of new "green" design guides to encourage best practice will be examined and current legislation that channels on site practices, such as site waste management plans. Fundamental individual construction materials are discussed and the process of reforming by products and waste products into new construction materials is investigated, examining the material performance, energy required to convert waste into new products and viability of recycling. The main range of constructional materials will be examined.
Aimed at postgraduate students, lecturers and researchers in construction and civil engineering, the book will also be of interest to professional design practices.
Published by Park Books.